The White Flower Cake Shoppe Beachwood
2101 Richmond Road Beachwood, Ohio 44122
216-514-2253
info@whiteflowercake.com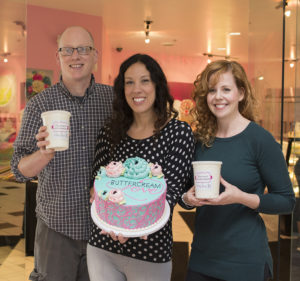 The White Flower Cake Shoppe

is Northeast Ohio's premier Cake Shop specializing custom Wedding Cakes, Birthday and Occasional cakes. It features a gorgeous display case full of beautiful and delicious baked items. Buttercream Cakes, French Macarons, Brownies, Sandwich cookies, Truffles and more are waiting for you to be picked up on a walk in basis. Need Buttercream? Stop in anytime and we will scoop it fresh for you from todays batch!
The White Flower Cake Shoppe Beachwood

is located in LaPlace Shopping Center next to Beachwood Place Mall, and across from Legacy Village. Open 7 days a week for your convenience
Gorgeous cakes and French Macarons available every day for purchase
Our Simply Sweet Petal cake
A capture of our display case full of amazing sweets!
Gorgeous 6″ birthday cakes available every day for purchase
Lovely Chalk board cakes that can be custom ordered
A Delicious selection of Gourmet Cupcakes available daily!
Unicorn 2 tier can be custom ordered
French Macarons with Pretty Pink Scalloped boxes
Buttercream Unicorn cake
Floral wreath cakes can be custom ordered
Meet Kelly, our Wedding Account Manager
Beautiful Buttercream wedding cake
A gorgeous buttercream wedding cake
Wedding cake slices available daily
Window display of beautiful cakes!
Signature Cupcakes
Decadent Brownies dipped in Chocolate available every day
Our famous Buttercream Filled Sandwich cookies!
Lovely Bride and Groom with their White Flower Wedding Cake
Main entrance to Laplace
Buttercream Love!
Pull around to the rear of the building and look for a panel of windows and glass doors with cake pictures and our logo attached to them. Walk in these doors, which is the main entrance, on the rear of the building. We are located across from Nervous Dog Coffee inside the building. You will also find Mitchell's Ice cream on the backside of the building as well as a patio which is great spot to enjoy a cupcake!
Need a Custom Decorated Cake?
We have you covered! View our beautiful cake galleries here:
Interested in a Wedding Cake?
We would love to have the opportunity to work with you to design the wedding cake of your dreams. Make an wedding cake tasting appointment with Kelly, our Wedding Account manager to sample cakes and discuss the beautiful design possibilities of your White Flower Wedding Cake! View wedding cake information here: http://www.whiteflowercake.com/wedding-cake-galleries/
Walk-in Retail items:
• Gourmet Cupcakes-12-13 flavors daily
• Buttercream Birthday Cakes-Available for walk in purchase.
• Buttercream Mini Cakes
• French Macarons
• Brownies
• Gourmet Buttercream-scooped fresh for you anytime!
• Buttercream filled Sandwich cookies
Custom Ordered Items:
• Buttercream Birthday Cakes
• Buttercream Wedding Cakes
• Cakes for all Occasions
• Anniversary Cakes
• Graduation Cakes
• Gender Reveal Cakes
• Custom Cupcakes
• Wedding Cake Consultations
Hours:
Monday-Saturday : 10:00am-6:00pm
Sunday: 11:00am-5:00pm
Phone:
(216) 514-2253
Happy hour!
4 Gourmet Cupcakes for $10
Tuesdays, Wednesdays and Sundays 3pm-close